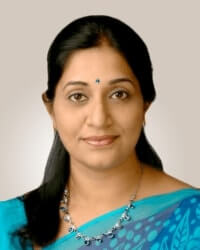 Dr. MNV Pallavi
MS, MR COG
Chief Consultant Obstetrician & Gynecologist
BIO
Dr. MNV Pallavi has completed MBBS from Andhra Medical College and has received all the awards and gold medals set up for Academic Excellence. She graduated as the best student from her medical college. She has completed Post Graduation in Obstetrics and Gynecology (MSOB / GYN) from the prestigious Kasturba Medical College, Manipal. She worked at the Bombay Hospital in Mumbai under renowned doctor Pai Dungat and learned vaginal reconstruction surgery. She also worked in the gynecology department at the Tata Memorial Hospital in Mumbai, where she is the only gynecologist in the city. She received advanced training in laparoscopic surgery from the renowned Pauls Hospital in Cochin.
She is a new generation consultant and one of the best gynecologists in Vizag, with vast experience in performing general gynecology and obstetrics. The latest laparoscopic surgery in her department is her strength. She is known for handling high-risk pregnancies and urogenic cases. She has earned the trust of patients from Vijayanagaram, Visakhapatnam, Srikakulam, Vijayanagaram, East Godavari, Odisha, Chhattisgarh and Jharkhand districts. She deals with all women's issues and menstrual issues and is also the best obstetrician.
She is a regular speaker at various academic venues and regularly attends local, national and international conferences of her specialty to hone her clinical and academic skills.
Dr. Pallavi is in the department that inspires her to look after women in all aspects of their lives from adolescence to menopause. Establishing patient-centered care has always been a priority for her. Her practice covers everything from simple preventive care to pregnancy management and gynecologic surgeries, to minimal invasive techniques.
Having worked in different communities throughout her training, she enjoys practicing in Visakhapatnam, taking great satisfaction in looking after patients from different backgrounds and places like Odisha and Chhattisgarh.